About us
About MadDetailer
MadDetailer started as a hobbyist back in 2005 who spend his weekend time detailing his car. Back then, there were few brands in Singapore but they were either difficult to use or not durable. That makes MadDetailer started to explore other detailing brands in U.S and he came to know Duragloss. He fall in love with the products and began to share this easy to use Duragloss in the forum. In 2010, MadDetailer introduced another brand Optimum to his fellow forumers. Because of their ease of use, durability and their  technology, both of brands are well liked by car owners till today.
Why name MadDetailer? If you are active in mycarforum detailing thread, you should come across his nickname Maddriver. Instead of being a maddriver, forumers started to name him MadDetailer because of his passion for detailing.
About our products

Brothers Research Corp. was founded in 1975 by Dr. William Bailey and his brother, Jerry to begin marketing a new automotive appearance product.
Because of their dissatisfaction with the products being offered at the time, these two car enthusiasts (and chemists) began in 1973 formulating their own automotive polish. The only products available then were difficult to use, left a heavy chalk residue, were not very durable, and gave only moderate results in shine.
After two years research and approximately one hundred trial formulations, all the above discrepencies were overcome. This revolutionary polish went on easily as a semi-transparent film, was just as easily removed, and created a brilliant, durable gloss that would last up to a year.
The response was so overwhelming that Brothers Research was formed to market this new offering called "Duragloss".
Today, the Duragloss Appearance Line contains 54 products for the Automotive, Marine/RV and Heavy Duty markets. Duragloss Products are distributed through the automotive aftermarket, and are targeted towards those of you who are just like our founders; people who take pride in their automobile.
About Optimum Car Care
Optimum car care products are a group of environmentally safe, paint safe, technologically advanced products that will give your vehicle optimum shine and protection.
Optimum Polymer Technologies was founded by an organic chemist whose specialty is polymers and automotive paint formulations. Dr. David Ghodoussi worked backwards from his knowledge of paint's composition to formulate cleaners and protectants best suited for today's finishes. Years of research and testing led to a line of products that deliver superior results without compromising sensitive clear coat finishes or the environment.
Optimum employs the latest polymer technology to put their products at the front of the pack in terms of durability, surface enhancement, and protection. Their Car Wax produces a warm carnauba shine with added silicon sealants to extend the life of the wax. In a convenient spray formula, it goes on effortlessly and requires no buffing to create a lasting layer of protection.
Optimum Car Wash works hand in hand with any quality wax by cleaning the paint without removing the protective coat of wax or sealant. You wax less often yet retain a high level of paint protection.
Optimum Protectant Plus is a versatile cleaner and protectant that restores the original color and uniform texture to leather and vinyl surfaces. It hides scratches and replenishes protective chemicals lost through everyday wear. The finish looks new, not slick or sticky.
Optimum No Rinse Wash & Shine is the environmentally friendly way to keep your vehicle clean year round. It is formulated to comply with VOC regulations and it is completely rinseless, requiring minimal water usage. Optimum No Rinse Wash & Shine is effective for use as a rinseless wash, quick detailer, and a clay lubricant.

Optimum Opti-Seal is a hyper-concentrated polymer coating that provides your vehicle with a layer of durable protection that lasts for months. The spray, wipe and walk away application makes Opti-Seal a perfect option for busy perfectionists.

Opti-Coat Gloss-Coat Paint Coating adds a clear resin layer to your paint that acts as a second clear coating of protection. This user-friendly formula creates a transparent protective coating that acts as a barrier between your paint and the elements. Gloss-Coat eliminates the need for waxing your vehicle without compromising on protection.


With all these benefits, Optimum products are also easy to use. Professionals and weekend detailers alike will love the convenience and results of these advanced car care products
Shipping
Shipping Method: All merchandise is shipped via Qxpress or JNT in Singapore with tracking number provided. Delivery time ranges from 3 to 5 business days depending on where you live.
International shipping (Malaysia) All merchandise is shipped via Janio Asia logistic with tracking number. Delivery time ranges from 7 to 14 business days depending on where you live.
We are not responsible for duties, taxes, brokerage fees, or tariffs.We cannot control delivery times to international destinations.We cannot ship aerosol products or custom items internationally.
A good product. Returning to this brand to use it again.

TBT
An existing user. Suitable for users looking for low glossy finish and a single product for most interior surfaces. Important feature - contains no chemical solvents or VOCs.

Kee
Awesome products from duragloss. Have been using it for years!

Ken
Fast delivery and great products. Have been using for years.

Nch
.I've received the Mad Detailer Sucker Pro microfibre drying towel from Benny. This is the most absorbent microfibre towel I've used to date!

It absorbs all the excess water that remains on your car after the car wash in a single wipe and does not leave any moisture residue behind.

Simply amazing! Definitely the product to be included in your detailing arsenal!

Ian Wui
Really awesome brand with fantastic results... Personally been using them for years.

Calvin Chui
The wash mitt is of good quality. Is a must for car wash to prevent fine swirl mark.

Fan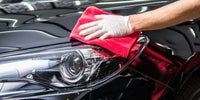 Mission Statement:
Our mission is to provide superior car care products and services that enhance the beauty and extend the life of automotive surfaces to maximize value and driving pleasure. Furthermore, we strive to offer products that are safe for our customers and the environment.
Optimum No Rinse Wash and Shine with Opti-Seal
Duragloss Nanoglass Ceramic Spray Sealant
MadDetailer Sucker Pro Twisted microfiber drying towel
Duragloss Trim and Rubber Protectant #271
Duragloss Concentrated Car Shampoo
MadDetailer Big Mouth double side twisted microfiber drying towel
Duragloss #601 and Duragloss #105
Duragloss Nanoglass Ceramic Coating for DIY
MadDetailer plush microfiber cloth
Duragloss leather shampoo
Duragloss trackclaw all purpose cleaner