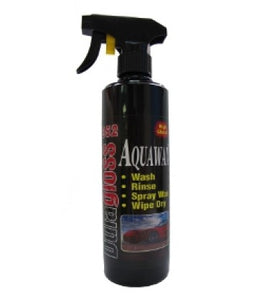 Only available in Singapore.
New Aquawax with graphene! Extreme Shine and extreme durability. Enhanced gloss and an incredible "wet look"! Duragloss Aquawax containing graphene is formulated to wax after washing in one easy step. Duragloss AW produces a high gloss, durable finish with minimal effort. Aquawax contains no abrasives and is clear coat safe. This is new formula Duragloss' most popular product! Duragloss Aquawax produces a deep, wet gloss on clean paint. On an already waxed finish, Aquawax deepens the reflection, enhances the shine and increases slickness.
Duragloss Aquawax is designed to use as standalone or a post-wash touch-up, it makes an incredible topper over any of wax, sealant such as Duragloss #105 sealant or a paint coating. These are all essentially paint sealants. After they've had adequate time to cure, spray on Aquawax and buff to a dramatic gloss.
Use Duragloss Aquawax any time to enhance gloss. As a maintenance paint protection, it applies an extra layer of protection and enhances the gloss of the existing paint protection. We recommend using a plush Microfiber Towel to buff off Aquawax. Since Duragloss Aquawax is a polymer sealant, it has good durability in its own. Plus, Aquawax will increase the lifespan of your existing paint protection. Enjoy incredible depth and gloss in a convenient new spray-on formula with Duragloss Aquawax with graphene.
Youtube video - https://youtu.be/PBPTevDGbps
Made in USA
Must-have quick detailer
Truly amazing
Very easy to apply ..just wipe and walk away for a great finish.
Swear by this product
Using it for years since I get to know DG products.
A must have bottle in your detailing basket
Makes a great topper
Produce a glass like shine on paint. Using it as a LSP. Can be use on both wet and dry surface.
Been using for years.
Still the best and easiest spray wax i had used.