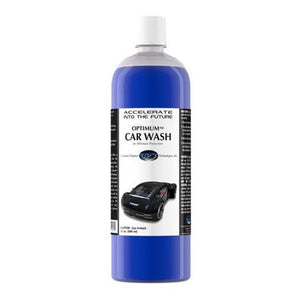 Optimum Car Wash is designed to clean the toughest automotive grime while maximizing the protection of Optimum Car Wax. The rich foaming lather traps dirt and grime and rinses with cold water leaving a smooth, clean surface behind. Optimum Car Wash is very concentrated and using 0.5 oz. or less per gallon of water provides the necessary cleaning and foaming
Thick, rich foam and excellent lubrication! Preserves protective coatings!

Stop! Before you drive your vehicle through another automatic car wash, think about what you're doing to your paint. The chemicals used in most automatic washes and many at home detergents strip protective coatings from your paint, leaving it unguarded against the elements. If you don't have time to wash your vehicle by hand, you probably don't have time to apply wax after every wash, either.

Optimum Car Wash is a different kind of wash. It thoroughly cleans your paint without removing wax or sealant so your paint remains protected. Many waxes only require reapplication every 4 to 6 months. With Optimum, your wax will last as long as it should so you save time and money.

As with any premium car wash, Optimum Car Wash gives your paint great protection against accidental swirls and scratches resulting from improper wash techniques. Rich lather lubricates abrasive particles so they slide off your paint in the rinse water without scratching. By maintaining the wax coat, your paint has added protection from grit during washing.

Optimum Car Wash is an environmentally responsible product. Its biodegradable ingredients ensure that run-off from your vehicle will not affect the surrounding environment. These ingredients are also gentler on your clear coat than harsh solvents and chemical compounds. It is safe for all coating surface.
Made in USA