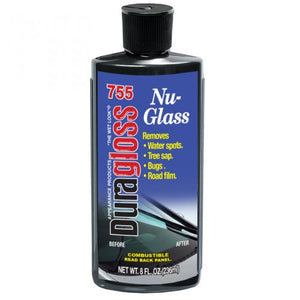 Duragloss Nu-Glass Is a blend of cleaners and selected abrasives formulated to remove water spots without scratching the glass surface. Duragloss NG can be applied by hand or mechanical buffer.
Duragloss Nu-Glass contains lubricants to protect the glass from abrasion. Apply it by hand or with a buffer to easily remove imperfections and improve the clarity of automotive glass.

If applying by hand, use a polyfoam applicator. Wipe off with a dry microfiber cloth. Once you've polished your vehicle's glass, use Duragloss Rain Repel #751 to seal and protect the glass.

Remove water spots, tree sap, bugs and road film without scratching; Duragloss Nu-Glass is a safe, practical glass polish that really works.
Made in USA
8oz - Duragloss Nu Glass Polish #755