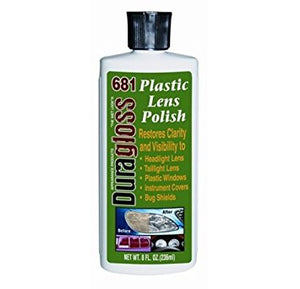 Correct and protect all types of plastic! Duragloss Plastic Polish is formulated to polish and protect all types of clear and colored plastic: Plexiglas, Fiberglass, ABS, Lexan, Lucite, Acrylite, and all other acrylics, (including painted surfaces). Duragloss Plastic Polish improves clarity by removing fine scratches while sealing the pores of the plastic. It dries quickly with no smudges, scratches, sticky or oily residue. Duragloss Plastic Polish is a one step polish and protectant for all types of plastic, even clear and painted plastics. Use it on headlight lenses, clear plastic instrument panels, convertible rear windows, bug deflectors, and other smooth plastics.
The polish improves clarity by removing hairline scratches, which cloud clear plastic. These tiny scratches become particularly noticeable when they fill with dirt and debris, and, in the case of headlight lenses, the scratches can block light. Duragloss Plastic Polish removes hairline scratches and thereby cleans and clarifies the plastic. Inside your vehicle, hazy, scratched instrument panels create an overall impression of neglect and old age. Duragloss Plastic Polish clears up the haze and the scratches to restore the clear, like-new appearance to your car's instrument panels.
Clear up cloudy convertible top windows, polish out the tiny scratches on your bug deflector or wind deflector, and clean painted plastics, too. Duragloss Plastic Polish leaves a tough layer of protection on treated plastic to prevent future damage. Duragloss PP seals the pores of the plastic to keep dirt out and maintain the plastic's clean, clear appearance. Apply Duragloss Plastic Polish by wiping it on with a polyfoam applicator. Polish will dry to a haze. Buff to a bright shine using a microfiber cloth. Duragloss Plastic Polish cleans, polishes and protects all plastics, inside and outside your vehicle. 
Made in USA